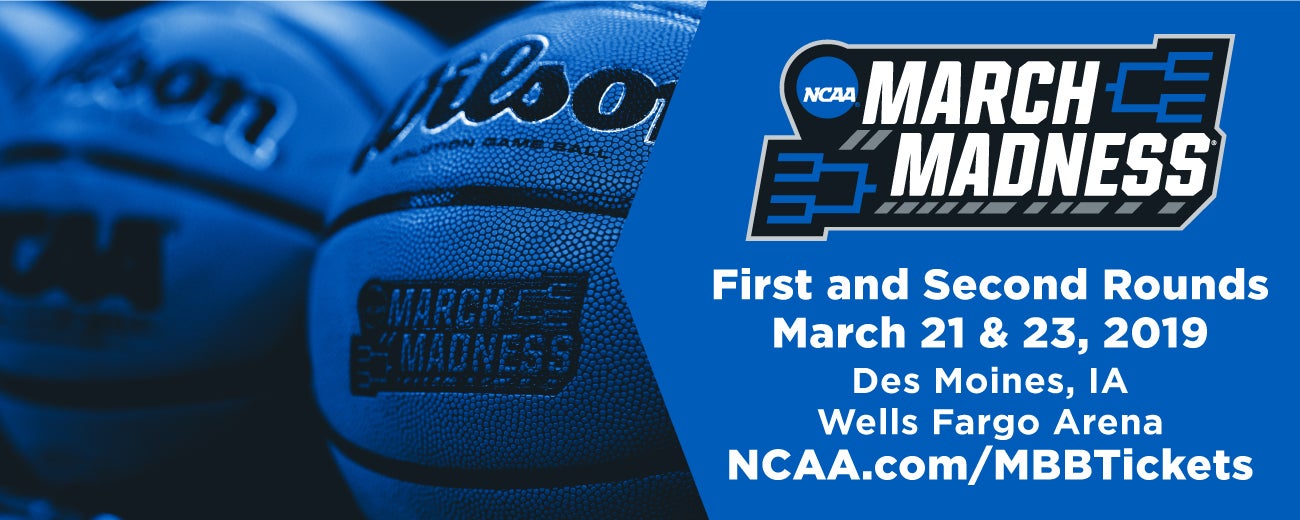 NCAA Division I Men's Basketball First and Second Rounds
hosted by Drake University
Thursday |

Mar.

21

, 2019

TBA

Saturday |

Mar.

23

, 2019

TBA
The Road to the Final Four® stops in Des Moines, Iowa March 21 & 23, 2019 at Wells Fargo Arena when Drake University hosts the First and Second Rounds of the NCAA ® March Madness® Tournament!
General public sales are sold out, but tickets may still be purchased through the NCAA Ticket Exchange powered by PRIMESPORT. Details for that option may be found below. You may also sign up to join our wait list by filling out the form found here.
NCAA Ticket Exchange® – Buy and Sell Official Tickets
Tickets can now be bought and sold directly with other fans through the official NCAA Ticket Exchange. The NCAA Ticket Exchange allows fans to sell and buy official tickets online in an NCAA approved, safe and 100% guaranteed environment. Learn more about the NCAA Ticket Exchange.
NCAA, The NCAA Experience, and Share The Experience are trademarks owned by the National Collegiate Athletic Association. All other licenses or trademarks are property of their respective holders.
Additional Ticket Information

General public sales are sold out, but tickets may still be purchased through the NCAA Ticket Exchange powered by PRIMESPORT. Details for that option may be found below. You may also sign up to join our wait list by filling out the form found here.

NCAA Ticket Exchange® – Buy and Sell Official Tickets

Looking to sell your tickets? The NCAA Ticket Exchange powered by PRIMESPORT allows fans to sell and buy official tickets online in an NCAA approved, safe and 100% guaranteed environment. Learn more about the NCAA Ticket Exchange.

Related Links