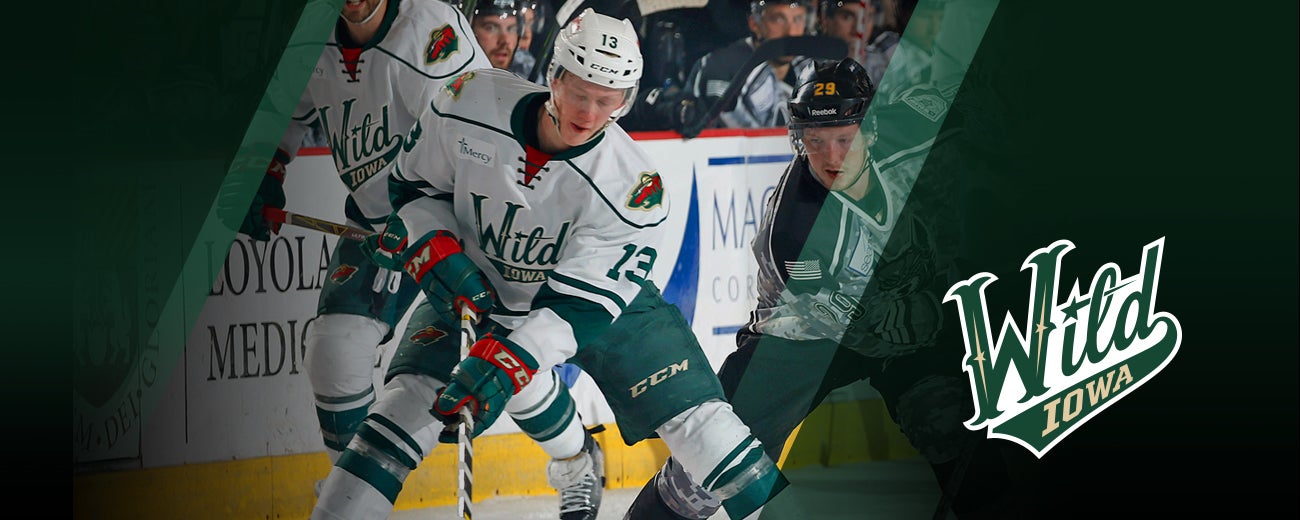 Iowa Wild
The Iowa Wild is the American Hockey League (AHL) affiliate of the NHL's Minnesota Wild. The team completed its third season at Wells Fargo Arena in 2015-16. As part of its affiliation, the Iowa Wild is primarily responsible for developing prospects for the parent club in St. Paul.
During the 2015–16 season, the Wild saw 10 players called up to the NHL, increasing the team's total to 32 players called up in the first three years. Iowa graduates played a major role in Minnesota's fourth straight playoff appearance, including forwards Erik Haula and Jason Zucker, as well as defenseman Matt Dumba and goalie Darcy Kuemper. Despite not making the playoffs, Iowa was over .500 after Christmas and showed promise heading into 2016-17. The team ranked 15th in the AHL for overall attendance, averaging nearly 5,846 fans per game at Wells Fargo Arena.
The Wild continues to strengthen its community presence with successful school programs such as Wild About Reading and the Healthy Living Floor Hockey programs. In all, nearly 26,000 students participated in the Wild About Reading program in 2015–16. The Healthy Living Floor Hockey Program included 44,000 students in 100 schools throughout Central Iowa. The club also celebrated its second School Day game with Wild About Education Day, featuring educational programming to teach young students about the game of hockey. It was a huge success with over 11,000 students on hand for the game.
The Wild is also deeply entrenched with youth hockey in Central Iowa, partnering with the Des Moines Youth Hockey Association and the Iowa Wild AAA travel club. Throughout the calendar year, the team makes hundreds of donations to countless charities in the state of Iowa.
The Iowa Wild plays in the Midwest Division of the AHL's Western Conference. The AHL is a 30-team league with teams located in the United States and Canada. Each team acts as the primary development affiliate for its respective NHL team. Nearly 90% of all NHL players are graduates of the AHL.