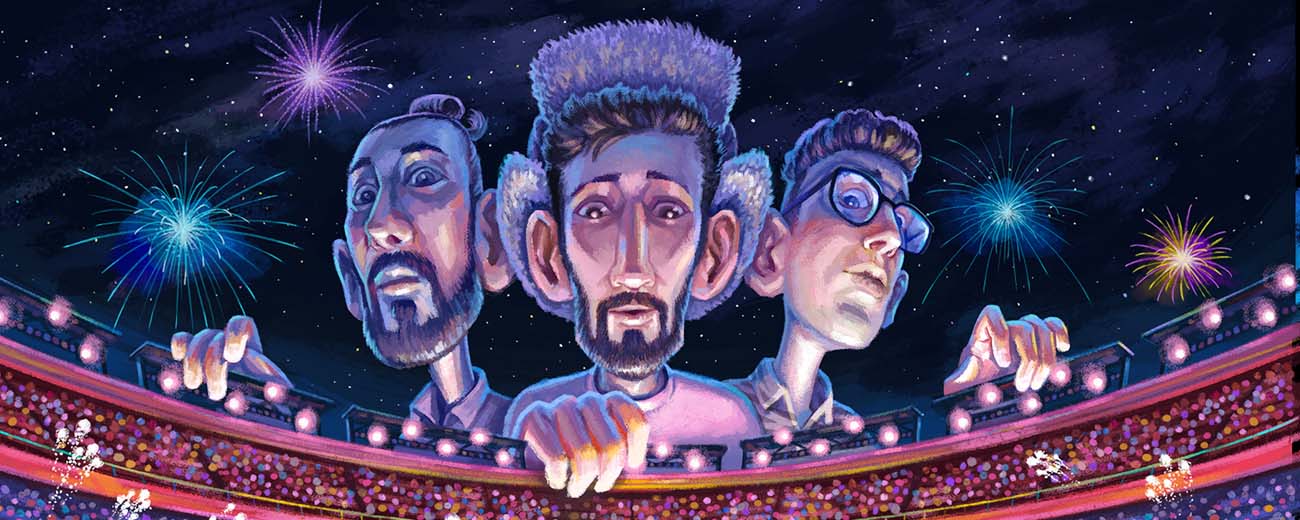 AJR - The Maybe Man Tour
Tuesday |

Apr.

16

, 2024

7:30 PM
Additional Ticket Information

6 ticket limit for presales and onsale

Related Links

AJR Announces The Maybe Man Tour

November 10, 2023 (NEW YORK, NY) – Today, the multi-platinum chart-topping band AJR officially released their fifth studio album, The Maybe Man, via their own AJR Productions label and Mercury/Republic Records. Last night, the band appeared on The Tonight Show Starring Jimmy Fallon for their first-ever late night couch conversation. They are also set to perform the new single on Live with Kelly and Mark later this morning.

In celebration of the album, AJR will embark on The Maybe Man Tour next spring, a 43-city arena tour across the continent. Their first arena tour, promoted by Live Nation, will include stops at several legendary venues, including Boston's TD Garden, Austin's Moody Center, Los Angeles' Kia Forum, Nashville's Bridgestone Arena, and AJR's hometown arena, Madison Square Garden. The tour will kick off on April 2, 2024 in Norfolk, VA and will conclude on August 2, 2024 in Washington, D.C. You can watch the teaser HERE and find full routing is available below.

Tickets will be available starting with a Seated registration presale beginning Monday, November 13 at 10AM ET/ 7AM PT through Thursday, November 16th at 10PM local time. Fans can sign up to access presale tickets via Seated now at ajrbrothers.com. Verizon will also offer customers an exclusive presale through Verizon Up. Verizon customers will have access to purchase presale tickets for select shows beginning Monday, November 13th at 10 AM ET through Thursday, November 16th at 10PM local time - for more details visit Verizon Up. The general on-sale will begin on Friday, November 17 at 9AM local time at ajrbrothers.com.

$1 for every ticket sold will go towards Planet Reimagined, a non-profit organization co-founded by Adam Met, that trains the climate leaders of the future with customized programs for action-researchers from around the world, teaching them how to combine thought and advocacy for measurable impact to fight the climate crisis and deliver fair solutions for people and the planet

On the road, AJR have recently toured across Europe throughout the Summer. They ignited a multitude of high-profile stages, including Lollapalooza Berlin, Zurich Openair Festival, and Szieget Festival, and capped off the year with SEMA Fest in Las Vegas last weekend.

The trio continues to put up staggering numbers on their music, crossing over 5 billion in global streams and climbing. Additionally, they sold upwards of 350,000 tickets in the US to their "OK Orchestra" World Tour, showcasing their biggest production yet and affirming them as one of the most consistently captivating and thrilling live acts.They brought the larger-than-life production to Australia and Europe as well. See clips from the OK Orchestra World Tour here & here.


AJR make the kind of music that encourages you to keep going. For as much as their multi-dimensional soundscapes, theatrical delivery, and big screen-worthy vision provide an escape, the multi-platinum, chart-topping trio of brothers—Adam [vocals/bass], Jack [vocals/guitar], and Ryan Met [guitar/piano/vocals]—also manage to intimately empathize with listeners everywhere. The band constructed an inimitable and immersive world soundtracked by a truly alternative vision for pop. Beyond 5 billion streams and counting, the group notched a string of seismic smashes, including "Bang!" (3x-platinum) and "Weak" (3x-platinum), "Burn The House Down" (2x-platinum), and "100 Bad Days" (platinum), "Sober Up" (platinum), and "I'm Ready" (platinum). Following their platinum breakout album The Click [2017], the boys consecutively crashed the Top 10 of the Billboard 200 with Neotheater [2019] and OK Orchestra [2021]. Recently, their song "World's Smallest Violin" had a resurgence online with over 2 million video creates on TikTok with over 10 billion combined views between the official sound, original sounds, and sped up versions.

Traveling around the globe with their own version of the Greatest Show on Earth, they've packed arenas on multiple continents, selling nearly 1 million tickets thus far. In addition to earning widespread acclaim, they've ignited late-night television and are composing the score for Harold & the Purple Crayon on Broadway. Their debut album for Mercury Records/Republic Records, The Maybe Man, might just be their most identifiable body of work yet. In true AJR fashion, they came up with a larger-than-life way to explain the existential crisis of growing up and also process and deal with their father's passing. Enter The Maybe Man. The title character is "a big sad superhero who is always questioning who he is." Like a giant out of your favorite fairy tale (remade in kickass 3-D), emotion hangs over his head, so it doesn't have to hang over yours.