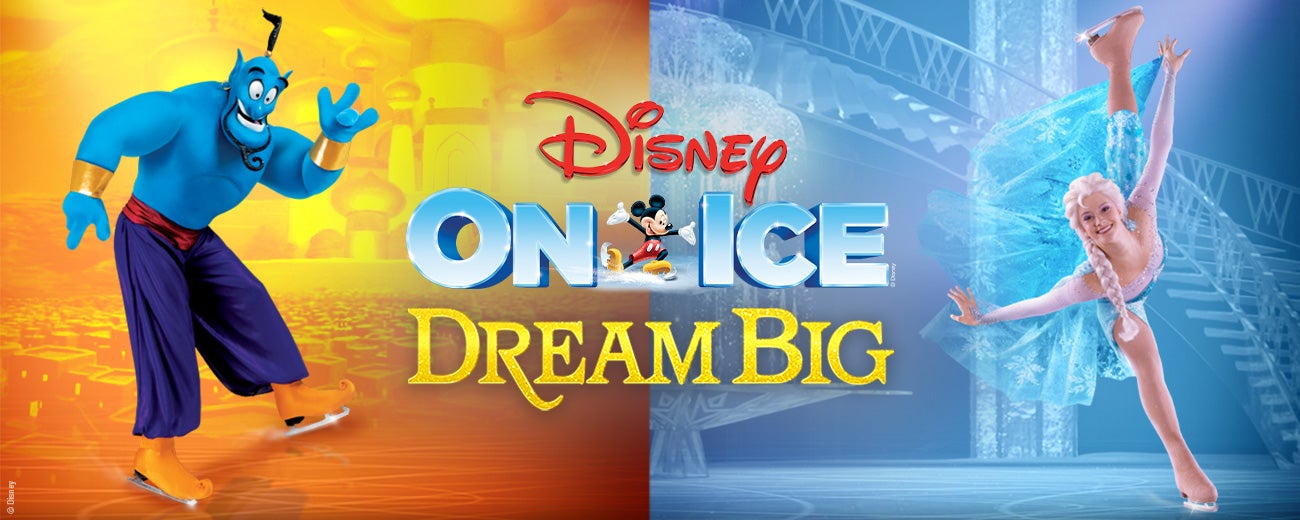 Disney On Ice presents Dream Big
Thursday |

Nov.

26

, 2020

6:00 PM

Friday |

Nov.

27

, 2020

11:00 AM

Friday |

Nov.

27

, 2020

3:00 PM

Friday |

Nov.

27

, 2020

7:00 PM

Saturday |

Nov.

28

, 2020

11:00 AM

Saturday |

Nov.

28

, 2020

3:00 PM

Saturday |

Nov.

28

, 2020

7:00 PM

Sunday |

Nov.

29

, 2020

1:00 PM

Sunday |

Nov.

29

, 2020

5:00 PM

Thursday |

Dec.

3

, 2020

7:00 PM

Friday |

Dec.

4

, 2020

7:00 PM

Saturday |

Dec.

5

, 2020

11:00 AM

Saturday |

Dec.

5

, 2020

3:00 PM

Saturday |

Dec.

5

, 2020

7:00 PM

Sunday |

Dec.

6

, 2020

1:00 PM

Sunday |

Dec.

6

, 2020

5:00 PM
UPDATE 11/17/20: After reviewing Section 7, Item H from the Governor's latest public health proclamation from 11/16/20 that addresses Theaters and Performance venues, and consulting with the Governor's office this morning for clarification on the proclamation, the Iowa Events Center will move forward with upcoming Disney On Ice performances between November 26 – December 6. The health and safety of our community, employees, performers and fans have been our top priority as we navigate the COVID-19 pandemic and live events and meetings. We are confident based on pod seating, mask mandates in our facilities, physical distancing in lines, and our enhanced cleaning and sanitization procedures that we can offer a safe environment. However, this requires those attending to do their part by following our mask mandate unless eating or drinking, physical distancing in lines and on the concourse, as well as staying home if sick.
Believing is just the beginning at Disney On Ice presents Dream Big. Miguel aspires to be a musician and journeys through the Land of the Dead to unlock his family's history. Moana and Maui bravely restore the stolen heart of Te Fiti, Anna and Elsa save their kingdom and the Disney Princesses inspire with stories of strength, determination and kindness. Share every magical moment filled with breathtaking ice skating and beloved Disney songs and stories that give everyone a reason to believe!

See Mickey, Minnie, Donald, Goofy and stars from Frozen, Moana, Coco, Aladdin, Beauty and the Beast, The Little Mermaid, Tangled, Cinderella, and Sleeping Beauty.
Safety Guidelines for this event are as follows:
Disney On Ice will limit arena capacity to preserve social distancing.
This event uses socially distanced pod seating, which was created for safety and health purposes. Pods must be purchased in their entirety and may not be divided. Tickets in a pod may not be sold or transferred to anyone other than family/trusted acquaintances who have chosen to attend the event together, unless all such tickets (i.e., the full pod) are being sold or transferred to one party.
All fans age 2 and older must have a ticket and wear a face covering, except when eating and drinking.
Please make sure to maintain social distancing of at least 6 feet between your party and others upon arrival and while navigating the concourse and seating area.
Guests are encouraged to use the entrance closest to their seats to prevent congregation and fan crossover.
Increased sanitization of high-contact areas including doors, railings and concession counters.
Hand sanitizer stations will be placed throughout the venue at main entrances and high volume areas to promote hand hygiene.
Concourse equipment will be minimized to allow additional space for social distancing.
Wells Fargo Arena will be implementing a clear bag policy for this event with a maximum size of 12"x6"x12" being permitted in. Exceptions will be made for bags containing items required for medical, family, or child care.
All Wells Fargo Arena staff working the event will be temperature checked and required to wear face coverings.
Visit DisneyOnIce.com for additional information regarding Guest Wellness.