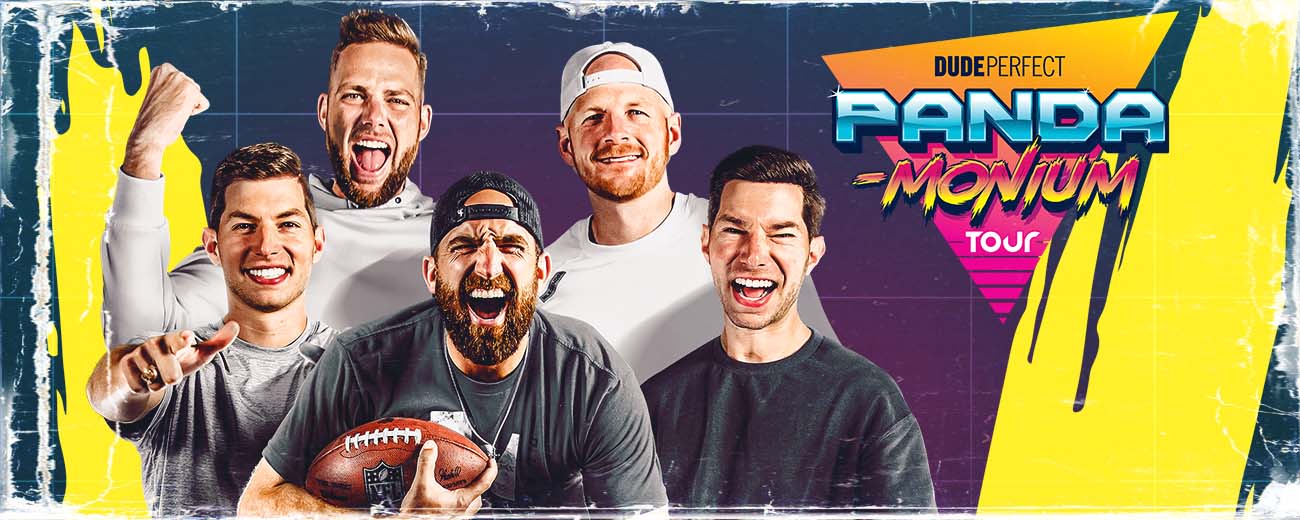 Dude Perfect: Panda-monium Tour
Saturday |

July

1

, 2023

7:00 PM
In the 2023 iteration of their tour, the Dudes will bring their laugh-out-loud antics to the stage and compete in crazy, trick-shot themed battles. The tour will feature some of the most popular segments from their award-winning "Overtime" series like Cool Not Cool and Wheel Unfortunate with Ned Forrester, and new fan-favorite segments like Get Crafty and Top 10 are in the works as well.
"We can't wait to get back on the road and see your smiling faces for our brand-new 2023 Pandamonium tour! We have some awesome new surprises in store for this tour and we can't wait to meet you all in person," said Coby Cotton, Dude Perfect.
Dude Perfect's Tyler Toney adds, "We are PUMPED to roll out a brand-new tour! The 2023 Dude Perfect Pandamonium Tour will include fan favorites like Wheel Unfortunate with Ned Forrester, Cool Not Cool, crazy stunts and all-new battles! Who knows, Coby may even pull out a win here or there (but probably not)."
Related Links

Clear Bag Policy

Wells Fargo Arena has implemented a clear bag policy for all events. A maximum clear bag the size of 12"x6"x12" is permitted. Exceptions will be made for medical, family, or child care bags or small clutches no larger than 4.5"x6.5". Click here for more information.

Cashless Facility

Wells Fargo Arena is mostly a cashless facility. All concessions will now only accept debit, credit, and gift cards, with the exception of Overtime Tap (Section 108). Guests are able to transfer cash onto a gift card at the Overtime Tap stand (Section 108) if you do not carry a debit or credit card.

Sensory Inclusion

Iowa Events Center offers sensory bags, quiet spaces, and a sensory room for any guest with sensory needs. Please visit our Sensory Inclusive Initiative page for more information.

Reserve Your Parking Spot!

Click here to reserve yor parking spot through ParkMobile. Pre-purchased parking spots are available until Friday, June 30 at 7:00pm or until inventory is exhausted.