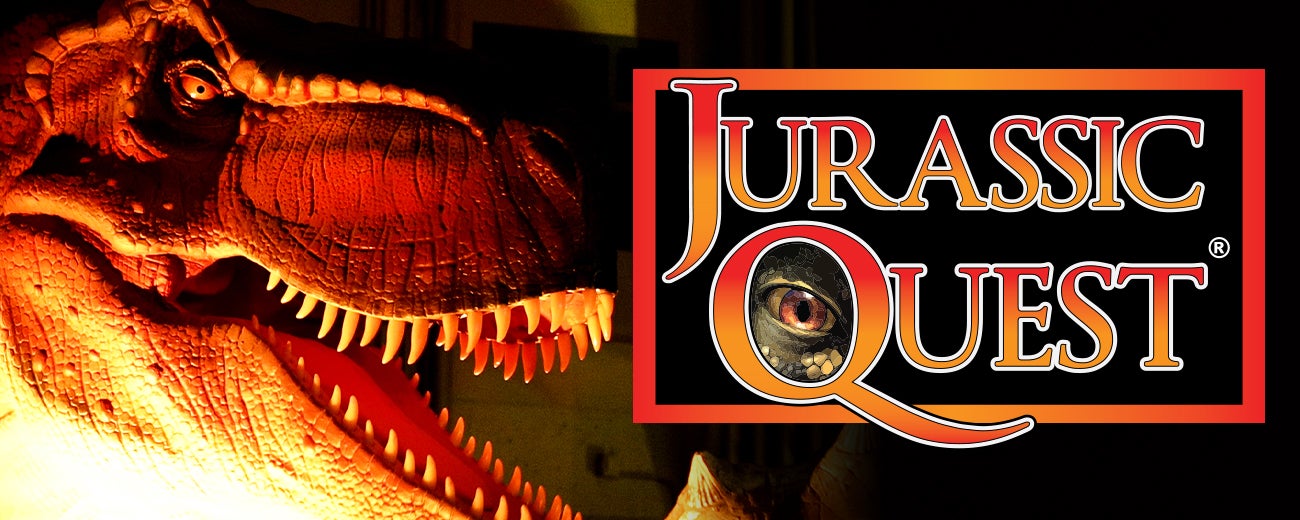 Jurassic Quest
Friday |

Feb.

10

, 2023

9:00 AM

Saturday |

Feb.

11

, 2023

9:00 AM

Sunday |

Feb.

12

, 2023

9:00 AM
Jurassic Quest is the world's largest, most popular dino event with unique and exciting experiences for the whole family. See our herd of life-size animatronic dinosaurs including Apatosaurus, Spinosaurus, T-Rex and an incredible 50 Foot Long Megalodon. Meet our trainers, baby dinos and watch a live interactive Raptor show. You don't want to miss "The Quest" interactive adventure, dinosaur rides, giant fossil dig, inflatables, fossil science exhibit, "Triceratots" soft play area, and MORE!
Additional Ticket Information

Kids Unlimited Ticket: Best Value for kids ages 2-10. Includes admission, plus unlimited access to stationery and walking dinosaur rides, fossil dig, and dinosaur-themed inflatable attractions. (Note: maximum weight for rides is 140lbs.)
Kids Standard Ticket: Admission for Ages 2-10. Children under 2 are free.
General Admission Ticket: Admission for Ages 11-64.
Senior Admission Ticket: Admission for Seniors 65 and older.

To allow our guests ultimate flexibility in their Jurassic Quest experience, the event format has been changed to remove timed entry (time slots). Guests who purchased tickets with timeslots may use their existing ticket to attend Jurassic Quest at any time on the day they purchased tickets for. Simply bring your ticket (regardless of the time slot purchased) to Jurassic Quest during open event hours and attend the event at your own pace. No ticket change is required, and you do not need to contact Customer Service. Please remember that weekend mornings and early afternoons are the most popular and may be crowded. Entry doors close one hour prior to the time listed for event closing each day.

Group Information

Related Links

Sensory Inclusion

Iowa Events Center offers sensory bags, quiet spaces, and a sensory room for any guest with sensory needs. Please visit our Sensory Inclusive Initiative page for more information.