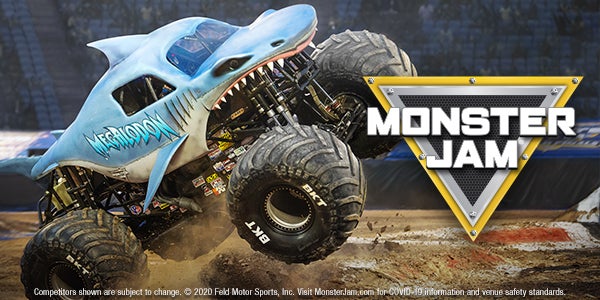 Monster Jam
Friday |

Apr.

16

, 2021

7:00 PM

Saturday |

Apr.

17

, 2021

1:00 PM

Saturday |

Apr.

17

, 2021

7:00 PM

Sunday |

Apr.

18

, 2021

1:00 PM

Sunday |

Apr.

18

, 2021

6:30 PM
Des Moines fans will witness a fierce battle for the event championship with each skilled Monster Jam athlete tearing up the dirt with gravity-defying feats in 12,000-pound Monster Jam trucks going head-to-head for points in Freestyle, the Skills Challenge and Racing competitions. Plus, fans can become part of the action by voting for the winner in the Skills Challenge and Freestyle competitions via real-time, in-stadium fan voting on their smartphones.
The all-star truck lineup is headlined by Oskaloosa native Tyler Menninga hopping aboard the legendary Grave Digger. In addition, fan-favorite Adam Anderson trades his black and green wrecking machine for Megalodon®, the truck that redefined the phrase "jumping the shark" and set the GUINNESS WORLD RECORD™ title for the most monster trucks jumped by a monster truck.
Aaron Basl vies for the championship in Devastator and Kaylyn Migues returns in Jailbird respectively. Overbored driven by Jamey Garner and Black Pearl, driven by Cole Venard, round out the epic six-truck lineup.
Monster Jam drivers are trained, world-class male and female athletes who have mastered not only the physical strength and mental stamina needed to compete, but the vital dexterity to control 12,000-pound machines capable of doing backflips, vertical two-wheel skills and racing at speeds up to 70 miles-per-hour to produce jaw-dropping, live motorsports action seen around the world.
Additional Ticket Information

PIT PARTY

SATURDAY, APR 17, 2021 | 11:00 AM - 12:00 PM
SUNDAY, APR 18, 2021 | 11:00 AM - 12:00 PM

At the Monster Jam® Pit Party, you can see the massive trucks up close, watch live pre-race interviews and participate in Q&As with the drivers, get pre-signed autograph cards, take pictures and enjoy other family-friendly fun. It's an unforgettable part of the Monster Jam experience where special connections are made and lifelong fans are born.

Face covering, social distancing, entry screening and other rules apply. Capacity and activities are limited based on the event, venue, and local authorities' guidelines, which are subject to change at any time.

Purchase a pit party pass when you purchase tickets

Related Links