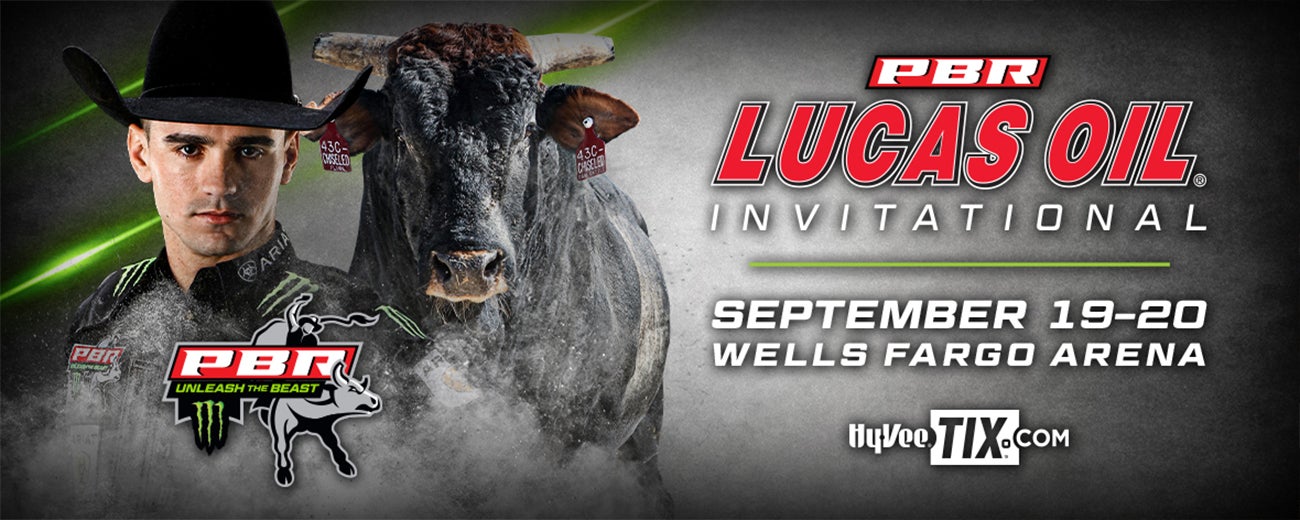 Professional Bull Riders
Unleash The Beast
Saturday |

Sep.

19

, 2020

6:45 PM

Sunday |

Sep.

20

, 2020

1:45 PM
For the first time in four years, PBR's (Professional Bull Riders) elite Unleash The Beast will return to Des Moines, Iowa, welcoming fans into Wells Fargo Arena September 19-20 for the PBR Lucas Oil Invitational.
The PBR Lucas Oil Invitational will abide by the health standards put in place for events by Polk County and Governor Kim Reynolds. PBR is following all local and state health protocols, and along with Wells Fargo Arena, is instituting a series of fan safety procedures including:
In addition to Centers for Disease Control and Prevention (CDC)-informed screening, all PBR personnel will undergo medical testing for COVID-19.
All Wells Fargo Arena staff working the PBR event will be temperature checked and required to wear masks.
PBR will only sell up to 50% of arena capacity to separate fans.
All fans will be in POD seating, which increases distancing and minimizes fan crossover when entering and exiting their seats.
All event attendees will be encouraged to wear masks.
Increased sanitization of high-contact areas including doors, railings and concession counters.
Hand sanitizer stations will be placed throughout the venue at main entrances and high volume areas to promote hand hygiene.
Social distancing will be encouraged at the box office lobby and in all concession and restroom lines.
Guests will be encouraged to use the entrance closest to their seats to prevent congregation.
Concourse equipment will be minimized to allow additional space for social distancing.
Wells Fargo Arena will be implementing a clear bag policy for this event with a maximum size of 12"x6"x12" being permitted in. Exceptions will be made for bags containing items required for medical, family, or child care.
Prior to mass-gathering restrictions implemented due to COVID-19 (coronavirus), PBR's Unleash The Beast last competed in front of fans in Little Rock, Ark., at Simmons Bank Arena March 6-7. The sport then held closed events for its premier series in Duluth, GA at Infinite Energy Arena March 14-15, followed by three closed event weekends in Logan County, OK beginning April 25.
The Unleash The Beast will hold its first fan-attended event in Bismarck, ND on Aug. 7-8. The premier series will then make subsequent stops in Guthrie, OK (Aug. 14-15), Salt Lake City, UT (Aug. 21-22), Fort Worth, TX (Aug. 29-30) and Billings, MT (Sept. 11-13) before travelling to Des Moines on Sept. 19-20.
While the Unleash The Beast hasn't made an appearance in Iowa's capital city since 2016, the league has a storied history in Des Moines.
After PBR debuted in the city in 2005 with a developmental Touring Pro Division event won by three-time PBR World Champion Adriano Moraes, the PBR's elite Unleash The Beast travelled to the city for the first time in 2008, leading to eight consecutive annual stops through 2016.
Guilherme Marchi, the only PBR rider to have recorded more than 600 qualified rides on the premier series in his career, won the inaugural Unleash The Beast event in Des Moines in 2008 as the lone rider to go a perfect 3-for-3. Marchi went on to win the 2008 PBR World Championship.
While the Unleash The Beast tour has not visited Des Moines since 2016, the four-year absence has been filled with high-adrenaline action from the league's expansion series, the PBR Pendleton Whisky Velocity Tour.
Those winners include: Jesse Tillman (2017), Cody Rodeo Tyler (2018) and Michael Lane (2019).
This season, the PBR Unleash The Beast stop in Des Moines will be crucial in the championship race to the PBR World Finals in early November, where a gold buckle and million-dollar bonus will be awarded to the world's best bull rider. The riders competing in Des Moines are anticipated to be led by current world No. 1 Jose Vitor Leme, along with other top title contenders including world No. 4 and surging young gun Daylon Swearingen, 2018 PBR World Finals event winner Marco Eguchi and 2016 PBR World Champion Cooper Davis.
The bull riding action for the PBR Lucas Oil Invitational begins with Round 1 at 6:45 p.m. on Saturday, September 19, concluding with Round 2 and the championship round at 1:45 p.m. on Sunday, September 20. All 35 bull riders will get on one bull each in Round 1 and 2. Following Round 2 on Sunday afternoon, the riders' individual two-round scores will be totaled with the Top 15 advancing to the championship round for one more out and a chance at the $30,000 event title.

Additional Ticket Information

Seating for this event will be sold via POD groups. This was created to execute a safe seating environment, limiting crossover interaction between fans where possible. POD seating will be set in groupings of 2, 3, 4, 5, or 6 seats. Fans must purchase all tickets in a selected POD grouping. POD seating in sections 102 to 107, 202 to 208 and 302 to 309 are spaced with minimal crossover interaction with other fans. POD seating in sections 108 to 118, 209 to 219 and 310 to 322 are subject to limited spacing and possible crossover interaction with other fans. Fans sitting in all POD sections are asked to respect one another to provide a safe environment for everyone in attendance.