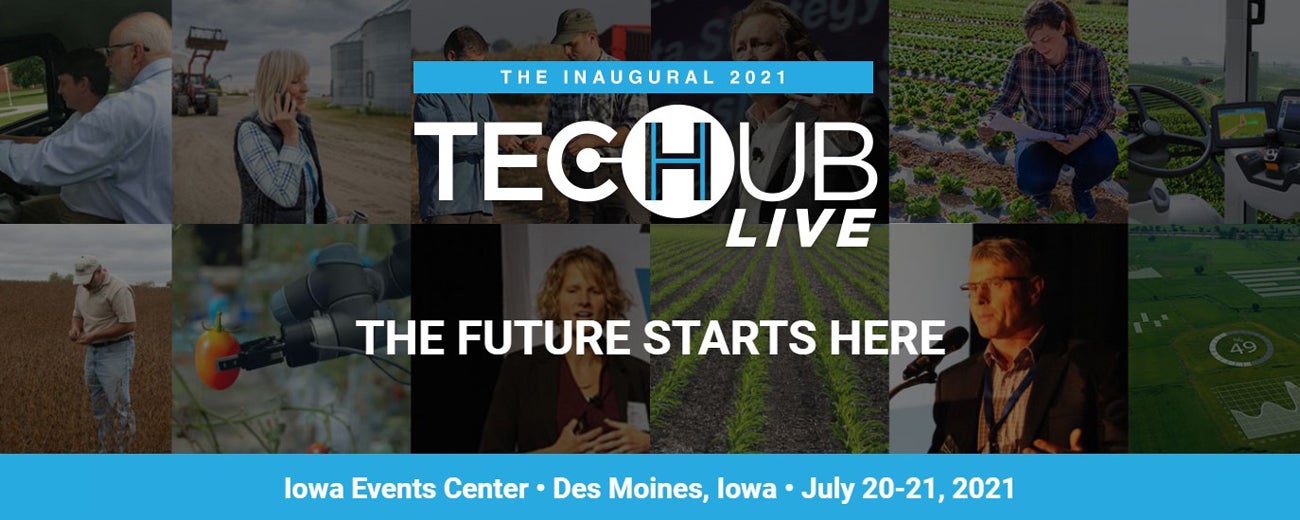 Tech Hub LIVE Conference and Expo
The Future Starts Here
Tuesday |

July

20

, 2021

7:30 AM

Wednesday |

July

21

, 2021

7:30 AM
The inaugural 2021 Tech Hub LIVE Conference and Expo brings together a community of like-minded professionals to learn, connect, and engage with leaders across data-driven agriculture sectors. This B2B conference welcomes attendees who are retail dealers/distributors, precision managers, service provider practitioners, leading precision companies, emerging solution provides, research and development leaders, and other allied industry sectors. (Please note, this is event is not open to the general public.)

LEARN from leading industry experts and thought leaders across the full spectrum of precision space about challenges and opportunities with advancing precision technologies. Attendees can also gain actionable intelligence – and earn CCA credits – on proven techniques and solutions ready to implement.

CONNECT with key suppliers and partners to discuss your needs and business plans in private meeting rooms. At Tech Hub LIVE, you're given the opportunity to see new precision products and services, and then meet directly with the people and companies developing them!

ENGAGE with peers and make personal connections as you share ideas and insight to advance your precision business. Join in continuous all-day engagement and discussions via roundtables, breakouts, receptions, and small-group conversations.

From seed to retail, advancements in digital and precision technology systems present exciting new opportunities to capitalize on. Seize the power of technology to move the industry forward through collaboration and integration across all segments of agriculture at Tech Hub LIVE.
Related Links

Sponsorship Opportunities

Sponsorship opportunities are available for companies from technology product and service providers, allied ag technology stakeholders, crop protection manufacturers, seed producers, and crop nutrition. For sponsorship information, please contact Eric Davis at [email protected].