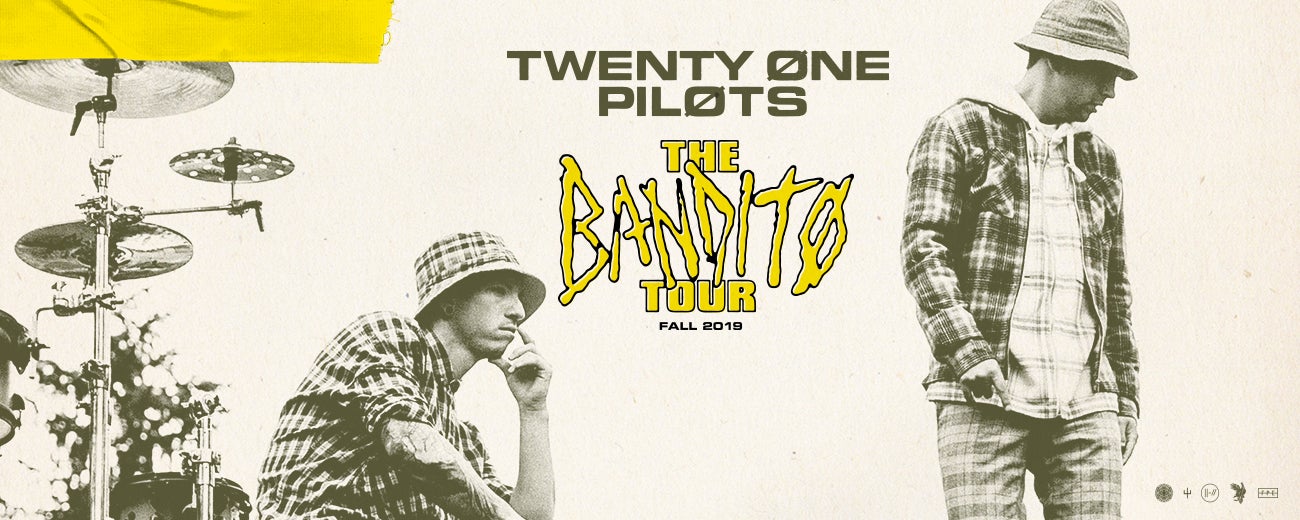 TWENTY ØNE PILØTS THE BANDITØ TØUR
Friday |

Oct.

25

, 2019

8:00 PM
Twenty One Pilots have announced a new U.S. leg of their global headline "Banditø Tour" due to overwhelming demand. The new Live Nation-produced tour dates, which follow this summer's sold-out arena run, are set to kickoff October 9 at Tampa, FL's Amalie Arena and will stop at Wells Fargo Arena in Des Moines October 25.

To ensure tickets get in to the hands of fans and not scalpers or bots, the tour has partnered with Ticketmaster's Verified Fan platform. Fans can register now through July 14 at 11:59PM at www.twentyonepilots.com/banditotour. Registered fans who receive a code will have access to purchase tickets before the general public starting on July 16 at 10AM through July 18 at 10PM.

All remaining tickets for the new U.S. dates will be released to the public at 10AM local time on Friday, July 19 and can be purchased at Hy-VeeTix.com, the Wells Fargo Arena ticket office, by phone at 844-55-HYVEE or any Des Moines area or Ames Hy-VeeTix.com locations.
Related Links

General Admission Policy for Twenty One Pilots

In an effort to maximize the experience of our guests and to have a safe controlled entry process for General Admission ticket holders, Wells Fargo Arena has instituted a wristband process to queue lines for the Twenty One Pilots Concert on October 25.

All guests are required to abide by the provisions of the conduct policy and any guests in violation of these policies will be asked to surrender their tickets and leave Wells Fargo Arena property.

No one will be allowed on site prior to 10:00am. Numbered wristbands will be distributed from 10:00am to 5:00pm to fans at the North Entrance to Wells Fargo Arena, which is located at the corner of Third and Crocker Streets. As the line grows, please wrap around the building along Third Street.

Only one wristband will be distributed per ticketed guest. All guests in a party, meaning all those attending with the guest that purchased the tickets, must be present at the same time to receive a wristband and enter with their party. Once a lineup wristband has been received, guests will be permitted to leave the facility provided that they return back to the line NO LATER THAN 5:00PM to have their wristband number honored. At 5:00pm we will have staff begin to line up wristbands in numerical order.

At 5:15pm we will enter the starting numbered wristband and the ending numbered wristband into random.org to determine what number will line up first. If a guest shows up with a wristband after the drawing at 5:15pm they will be placed at the end of the line.

Wells Fargo Arena will not honor any variation in numbering from guests, and this will be the only system deployed. Wristbands that are removed and taped back on will be voided.

Any issues with guests during this process will result in a warning, then removal from the line to the end of the line. If the offense is deemed flagrant (fighting, harassment, etc) it may result in ejection.

Doors are scheduled to open at 6:30pm. We will work with the show to potentially start screening our GA ticket holders early and have you queued up in advance of doors. Once the OK is given by the show, we will walk our GA guests onto the floor in an orderly fashion.

Additional Polices

· Under no circumstances will overnight camping be allowed on property

· Guests are permitted to have limited food and beverage outside in line if desired but will not be permitted to bring inside.

· No bottles allowed

· No alcohol allowed

· Please be respectful of other guests in line- no running, pushing, line jumping, no profanity, no animals (except for service animals)

· No smoking or vaping in line

· Reselling of tickets on site is not allowed

· Wells Fargo Arena is not responsible for any items left unattended. Those items will be discarded.