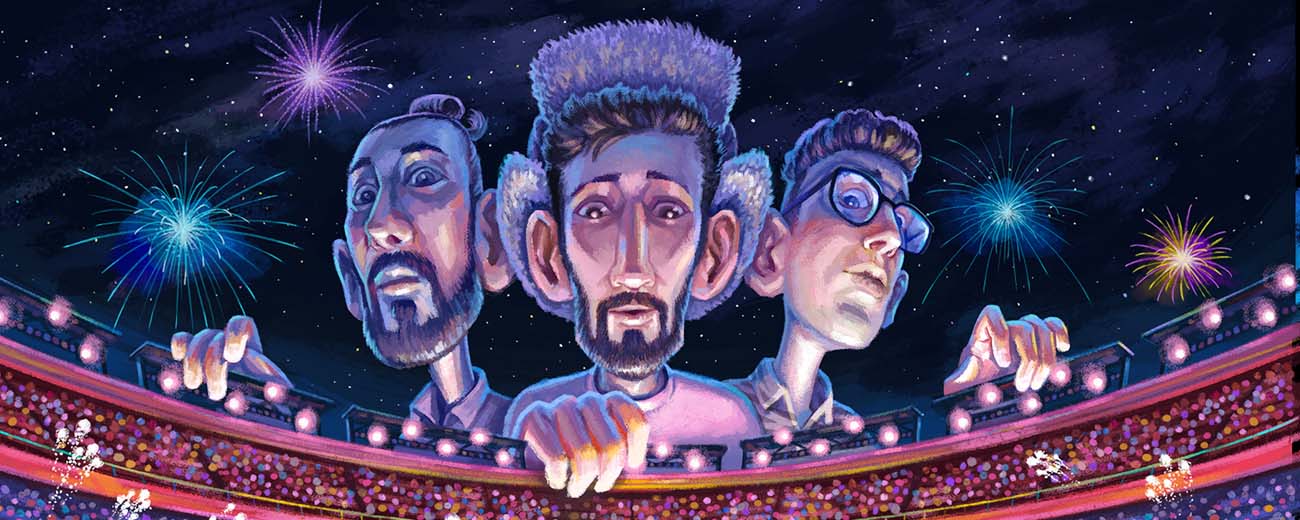 AJR Announces The Maybe Man Tour
Friday |

Nov.

10

, 2023
November 10, 2023 (NEW YORK, NY) – Today, the multi-platinum chart-topping band AJR officially released their fifth studio album, The Maybe Man, via their own AJR Productions label and Mercury/Republic Records. Last night, the band appeared on The Tonight Show Starring Jimmy Fallon for their first-ever late night couch conversation. They are also set to perform the new single on Live with Kelly and Mark later this morning.
Across twelve dynamic tracks, AJR present their big, sad, titular superhero constantly questioning who he is - an incredibly relatable and often unspoken aspect of life. Stream the full album HERE and watch "The Maybe Man" music video HERE.
The album includes five previously released tracks, including "Yes I'm A Mess,", which was just released and has already amassed 15M global streams, "The Dumb Song," which has over 20M global streams and over 1M views on YouTube, "The DJ Is Crying For Help," which has nearly 20M global streams and 4.5M views on YouTube, and "I Won't," which they premiered on The Tonight Show Starring Jimmy Fallon and has amassed over 52M global streams and nearly 7M views on Youtube. AJR also recently released "God Is Really Real," which is written about their father, Gary Metzger, who tragically passed away earlier this year. The heartfelt song resonated in the hearts of listeners worldwide who had grown to love Gary as an unofficial fourth member of the band. See the band's heartfelt letter to fans in response to their support HERE.
"In your mid-to-late twenties, you start to think about your life. There's endless potential, but it's also scary because you don't know who you're going to be. This album examines that personal existential crisis and the prevalent question of, 'Who am I?'" AJR share. "We've experienced a lot this past year and decided to write about all the serious issues you face as you get older in the most AJR-way we could."
In celebration of the album, AJR will embark on The Maybe Man Tour next spring, a 43-city arena tour across the continent. Their first arena tour, promoted by Live Nation, will include stops at several legendary venues, including Boston's TD Garden, Austin's Moody Center, Los Angeles' Kia Forum, Nashville's Bridgestone Arena, and AJR's hometown arena, Madison Square Garden. The tour will kick off on April 2, 2024 in Norfolk, VA and will conclude on August 2, 2024 in Washington, D.C. You can watch the teaser HERE and find full routing is available below.
Tickets will be available starting with a Seated registration presale beginning Monday, November 13 at 10AM ET/ 7AM PT through Thursday, November 16th at 10PM local time. Fans can sign up to access presale tickets via Seated now at ajrbrothers.com. Verizon will also offer customers an exclusive presale through Verizon Up. Verizon customers will have access to purchase presale tickets for select shows beginning Monday, November 13th at 10 AM ET through Thursday, November 16th at 10PM local time - for more details visit Verizon Up. The general on-sale will begin on Friday, November 17 at 9AM local time at ajrbrothers.com.
$1 for every ticket sold will go towards Planet Reimagined, a non-profit organization co-founded by Adam Met, that trains the climate leaders of the future with customized programs for action-researchers from around the world, teaching them how to combine thought and advocacy for measurable impact to fight the climate crisis and deliver fair solutions for people and the planet.