Des Moines Home + Garden Show
Tuesday |

Jan.

18

, 2022
A Sure Sign of Spring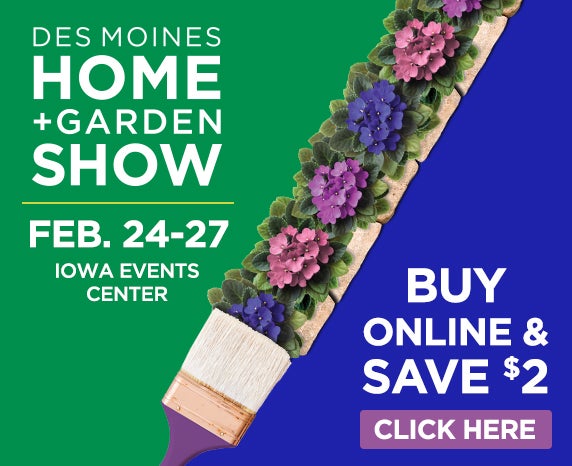 The Des Moines Home + Garden Show is sure to inspire homeowners with its more than 400 experts sharing new ideas and practical advice as well as hundreds of exhibits featuring innovative products and services. The Show boasts great deals and shopping experiences related to home, gardening, remodeling, and home décor.
Highlights of the 2022 Des Moines Home + Garden Show will include:
Featured Guest: Kaleb Wyse, co-creator of Wyse Guide
Kaleb is a fourth generation to live on his family farm in Iowa. To showcase his passion for gardening and the kitchen, he helped create Wyse Guide to inspire people with projects and recipes to use in their daily life. From the dirt in his vegetable garden to the flour in his kitchen, Kaleb will help you enjoy every season to the fullest.
Don't miss Kaleb on stage:
- Thursday, February 24 at 6 p.m.
- Friday, February 25 at 6 p.m.
- Saturday, February 26 at 11 a.m. and 2 p.m.
Sweet Space Sweepstakes
Enter for a chance to win a $500 VISA gift card to help create your dream space.
Hawaii Build + Beach Sweepstakes
Win a 10-day trip to help build a home with Habitat for Humanity. Work alongside a future Habitat homeowner on the Big Island and experience unique Hawaiian cultural activities.
DES MOINES HOME + GARDEN SHOW SCHEDULE
Thursday, Feb. 24 Noon – 9 p.m.
Friday, Feb. 25 10 a.m. – 9 p.m.
Saturday, Feb. 26 9 a.m. – 9 p.m.
Sunday, Feb. 27 10 a.m. - 6 p.m.
TICKET INFORMATION
Tickets are available online at desmoineshomeandgardenshow.com/
Ticket prices:
$11 if purchased online, $13 at the door
Children: $4 for children ages 6 – 12, 5 and under are free
Promotional Theme Days
Hero Day – Thursday, Feb. 24
As a thank you to all active military personnel, veterans, firefighters, police officers, medical professionals, and other first responders receive FREE admission. Simply bring a valid ID.
Teacher Day – Sunday, Feb. 27
To celebrate teachers and school staff for their dedication and service to children, all educators will receive FREE admission with a valid ID.
SOCIAL:
Facebook DesMoinesHomeShow
Instagram HomeShowDM
About Marketplace Events
Marketplace Events creates vibrant expositions connecting enthusiasts with experts, products, and services in dynamic face-to-face environments. The company produces 57 consumer shows annually in the US and 16 in Canada including 65 home shows, six holiday shows and two wedding shows. The 73 combined events, in 34 markets, currently attract 22,000 exhibitors, 1.9 million attendees and another three million unique web visitors annually. The company produces some of the most successful and longest-running shows in North America, including market-leading shows in Minneapolis, Atlanta, Indianapolis, Vancouver, Calgary and Montreal - some of which have thrived in their markets for more than 75 years. www.marketplaceevents.com