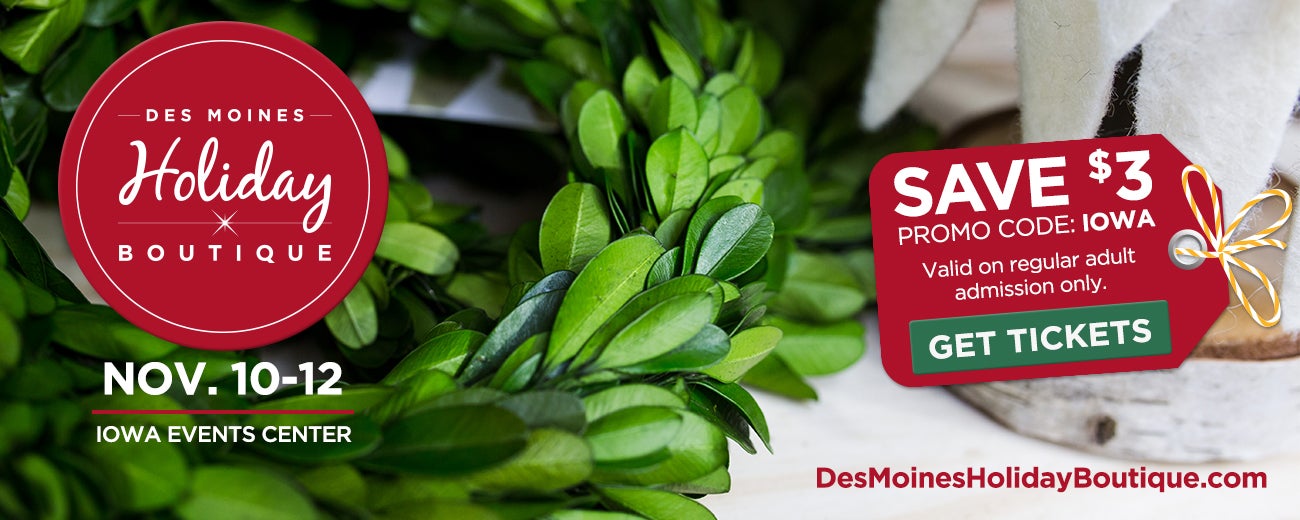 Jingle All The Way To The Des Moines Holiday Boutique
Tuesday |

Oct.

10

, 2023
JINGLE ALL THE WAY TO THE
DES MOINES HOLIDAY BOUTIQUE
Three-Day Shopping Event of the Season at
Iowa Events Center, November 10 – 12
Des Moines, IA – The ultimate holiday shopping experience of the season awaits as the 6th annual Des Moines Holiday Boutique returns to the Iowa Events Center (730 Third Street), November 10 – 12. Enjoy a feast of shopping as more than 200 companies will come together to offer a unique and festive atmosphere filled with an unparalleled selection of holiday home décor, jewelry, gifts, children's items, gourmet foods, and more.
The Holiday Boutique brings together exclusive, high-quality vendors and artisan designers from all over the country to help more than 22,000 shoppers find that perfect gift for anyone on their list.
Highlights of the Des Moines Holiday Boutique will include:
· Girls Night Out on Friday, Nov. 10 will help kick off the weekend with a party from 5 – 9 p.m. Enjoy music, drinks, and of course, a jolly shopping experience!
· Theme Night is Saturday, Nov. 11. Enjoy a themed event from 4 – 7 p.m. Stay tuned for the announcement of the theme!
· Holiday Entertainment Stage: Enjoy festive performances by local talent during the three-day shopping event.
· Artisan Exhibitors: Discover beautiful, custom-made gifts and home décor created by local artisans. Their unique, artist-inspired creations and artwork can't be found anywhere else.
· Handmade in Iowa: Shop at this dedicated crafters' area, featuring an array of locally handmade products.
· Shopper's Relaxation Lounge: A chance to get off your feet and rejuvenate for a full day of shopping. Located in Hall A.
· Boutique Café: Also in Hall A, the Boutique Café is another stop you won't want to miss, featuring a hot meal from Stu's BBQ and a full bar.
· Iowa Wine Village: Relax and sample some wine from local Iowa wineries. Bottles are available for purchase as well.
· Boutique Bucks: Shop the show for free! Brought to you by Bath Fitter, shoppers can enter to win at the show each hour. The drawings are for $50 in Boutique Bucks that can be used at any vendors, plus a grand prize drawing once a day for $250 in Boutique Bucks.
· Holiday Home Helpers: Get assistance in preparing your home for the holiday season from our Holiday Home Helpers throughout the show floor.
FILL A CUPBOARD FOR THE HOLIDAYS – DMARC Food Pantry Network Partnership
The Des Moines Holiday Boutique is excited to partner with DMARC Food Pantry Network for a second year on their "Fill a Cupboard For the Holidays" initiative. DMARC is the largest health-based food pantry network in Iowa, working together to meet basic human needs for the greater Des Moines Community. DMARC strives to provide healthy, culturally appropriate food, and welcome all who need assistance, no matter their circumstances. At the show, attendees will have the opportunity to donate $30 to fill a cupboard for those in need this holiday season. Donations are also being accepted online at our ticket page, DesMoinesHolidayBoutique.com.
TICKETS:
Adults – $12 (At the door)
Adults – $10 (Online)*
Children ages 12 and under are free.
*Online Advance Adult Admission will be at the $10 discounted rate through 11/9/23. Starting opening day of the show the price will increase to $12 online, same as box office pricing.
HOURS:
10 a.m. – 9 p.m. on Friday
9 a.m. – 7 p.m. on Saturday
10 a.m. – 5 p.m. on Sunday.
For show information and to save on tickets, visit DesMoinesHolidayBoutique.com.
About Marketplace Events
Marketplace Events creates vibrant expositions connecting enthusiasts with experts, products, and services in dynamic face-to-face environments. The company produces 57 consumer shows annually in the US and 16 in Canada including 65 home shows, eleven holiday shows, and two wedding shows. The 73 combined events, in 34 markets, currently attract 22,000 exhibitors, 1.9 million attendees and another three million unique web visitors annually. The company produces some of the most successful and longest-running shows in North America, including market-leading shows in Minneapolis, Atlanta, Indianapolis, Vancouver, Calgary and Montreal - some of which have thrived in their markets for more than 75 years. www.marketplaceevents.com
##