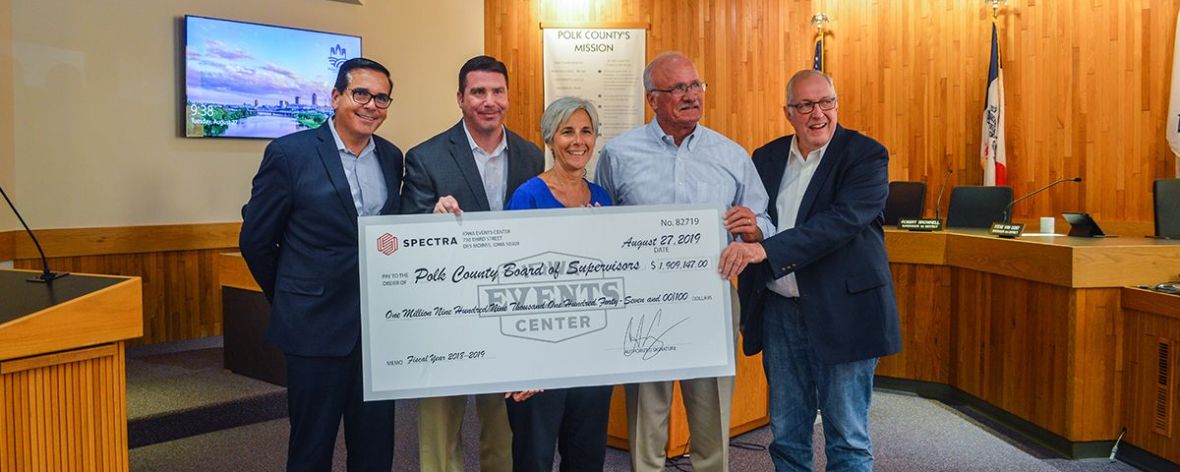 Spectra Announces Iowa Events Center Financial Results From 2018-2019 Fiscal Year
Tuesday |

Aug.

27

, 2019
AUGUST 27, 2019 - (Des Moines, IA) – Spectra, operators of the Iowa Events Center, presented financial results from fiscal year 2018-19 to the Polk County Board of Supervisors at their regular meeting Tuesday, August 27. For the 14th consecutive year Spectra exceeded their budget, producing a profit of $1,909,147 after hosting 1.1 Million guests over 467 events.
The Iowa Events Center has been such a great investment not only for our downtown community but for the Central Iowa region, drawing millions of visitors each year with first class entertainment," said Polk County Board of Supervisors Chair Tom Hockensmith. He added, "we couldn't ask for a better partner than Spectra. They continue to bring in top of the line entertainment and actively give back to our community."
The year was highlighted by hosting the 2019 NCAA Division I Men's Basketball First and Second Rounds on March 21 & 23. This was the second time the NCAA has brought the event to Des Moines. The event received high praises from participating teams and their fans as well as former NBA star, Reggie Miller, who was on the broadcast team for the Des Moines games. Other sports highlights from Wells Fargo Arena included hosting its first ever NHL preseason game between the Minnesota Wild and the St. Louis Blues. Over 13,000 people saw the Wild play the Blues, who would go on to win the 2019 Stanley Cup. December 15, 2018 was the last Hy-Vee Classic, which for seven seasons saw all four Division I Men's Basketball programs in the state face off under the roof of Wells Fargo Arena.
The convention center facilities performed very well last year by exceeding their budgeted gross revenues by $1.7 Million. Large national events were also a part of the convention center event mix last year with both the AAU Junior Olympic Games and The Association of Chamber of Commerce Executives choosing Des Moines as their host city last July. Additionally, client satisfaction scores for convention center events once again proved that Spectra provides a first-class experience for meeting planners as scores averaged a 4.82 out of 5, and improvement of .04 points compared to last year.
"This past year included some tremendous events in Wells Fargo Arena and our convention center that continued to raise Greater Des Moines' profile to current and future event organizers," said Spectra's Chris Connolly, General Manager of the Iowa Events Center. "On behalf of Spectra and our dedicated staff at the Iowa Events Center we thank the Polk County Board of Supervisors for allowing us the opportunity to manage the facility on their behalf."
For the current fiscal year, October looks to be one of the busiest months on record for Wells Fargo Arena. Not only do the Iowa Wild open up their season at the beginning of the month, but seven concerts are currently on the books, including Luke Combs (Oct 5), Heart/Joan Jett (Oct 7), Chris Tomlin (Oct 13), Twenty One Pilots (Oct 25), Carrie Underwood (Oct 26), Young Thug and Machine Gun Kelly (Oct 29) and a Day to Remember (Oct 30). Other upcoming shows include Kiss (Sept 3), Thomas Rhett (Sept 6), Disney On Ice (Nov 27 – Dec 1) and Iowa Wolves and Iowa Barnstormers seasons.
New events for this fiscal year in the Convention Centers includes the USA Gymnastics Championships that were hosted the first week of July and the National PEO Convention coming up in September. Iowa will take center stage in the political world in January with the return of the Iowa Caucus. The Iowa Events Center will be hosting the Caucus's Media Filing Center following another highly anticipated Iowa Power Farming Show.
In addition to a range of new events, this year will bring a new sound system to Wells Fargo Arena. The $1.1 million Daktronics system is currently being installed and is expected to enhance the visitor experience and keep Des Moines competitive in being able to offer artists top of the line technology.
ABOUT SPECTRA:
Spectra Venue Management is the industry's leader across a full range of services that impact the bottom-line success of public assembly venues, including marketing and sales, corporate partnerships, event booking, ticket services and box office management, customer service, operations and engineering, and finance and administration. In addition, Spectra's Food Services & Hospitality Division handles exclusive food and beverage operations for the Iowa Events Center.
###