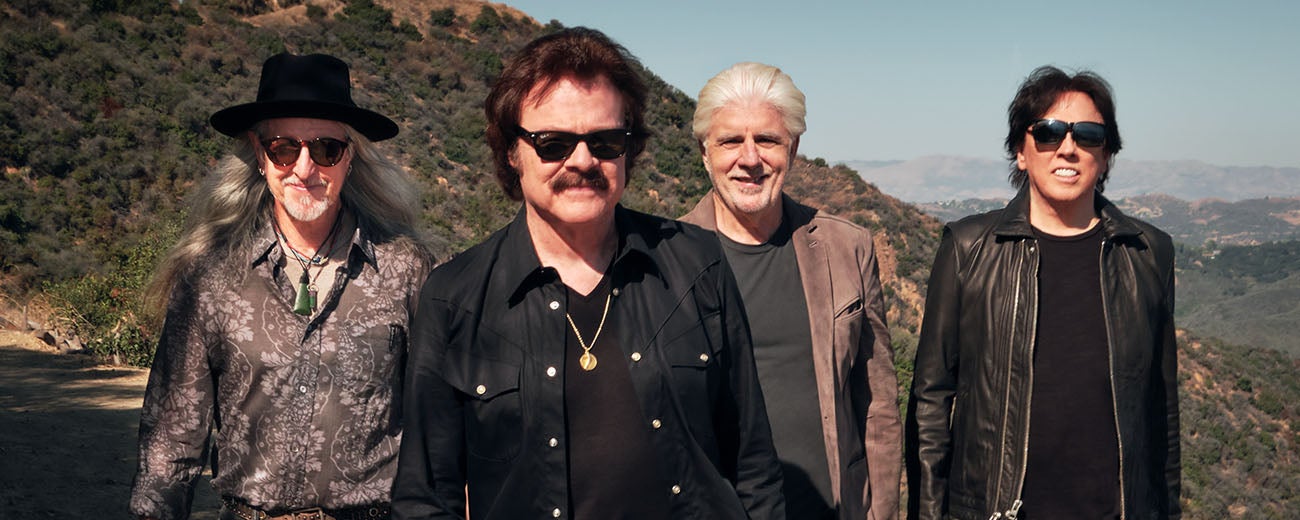 The Doobie Brothers Extend 50th Anniversary Tour with 35 Additional Dates in the U.S. from June through October
Monday |

Feb.

27

, 2023
Wells Fargo Arena - Des Moines, IA - June 18, 2023
New York, NY – February 27, 2023 – Four-time GRAMMY Award winners and Rock & Roll Hall of Fame inductees, The Doobie Brothers, have announced 35 U.S. dates from June through October 2023, an extension of their 50th Anniversary Tour which has had TOM JOHNSTON, MICHAEL MCDONALD, PAT SIMMONS and JOHN MCFEE back on the road together for the first time in over 25 years. Tickets for most of the newly announced dates will go on sale to the public beginning Friday, March 3, 2023 at 10:00 AM local time. This includes the June 18 show at Wells Fargo Arena in Des Moines, IA. A limited number of VIP Packages will also be available, including amazing seats, preferred entrance and more. Visit LiveNation.com for ticket details. Full tour routing is below.
These dates follow previously slated performances throughout May 2023 in Kahului and Honolulu, HI; Hollywood and St. Petersburg, FL; and Concord, NC. Prior to resuming their U.S. run, The Doobie Brothers will take their 50th Anniversary Tour to Australia, Japan and Singapore.
"We are thrilled to be back on the road in 2023 playing some cities we haven't gotten to yet on this tour," said TOM JOHNSTON.
Selling nearly 50 million albums worldwide, The Doobie Brothers have had five top-10 singles, 16 top-40 hits, 3 multi-platinum albums, 7 platinum albums, 14 gold albums and own a rare diamond record for their 1976 album, Best of the Doobies. The Doobie Brothers' collection of timeless hits will once again be played by the artists who wrote them, providing fans the rare opportunity to see these Rock and Roll legends performing their full catalog of songs on stage.
For complete tour and ticket information visit: LiveNation.com.
About The Doobie Brothers
For over five decades, The Doobie Brothers have been known for delivering mind-blowing, roots based, harmony-laden, guitar-driven rock and roll – all of which recently culminated in an induction into the 2020 Rock & Roll Hall of Fame. Boasting one of the most loyal fan bases in music, selling more than 48 million albums, and winning four GRAMMY® Awards, The Doobie Brothers continue to write and record new material and tour the world. Their No. 1 singles "Black Water" and "What a Fool Believes," both gold, lead a catalog of indelible songs that include: "Listen to the Music," "China Grove," "Jesus Is Just All Right," "Rockin' Down the Highway," "Long Train Runnin'," "Take Me In Your Arms," "Takin' it to the Streets," "Minute by Minute," "You Belong to Me," "The Doctor" and more. In all, the Doobies have tallied up five top 10 singles and 16 top 40 hits. Beginning with their multi-million-selling sophomore collection Toulouse Street, the Doobies have 3 multi-platinum, 7 platinum, and 14 Gold albums. Best of the Doobies has sold more than 12 million copies – a rare "diamond record." In 2021, the band kicked off their 50th anniversary tour which reunited Tom Johnston, Michael McDonald, Pat Simmons, and John McFee on stage. Additionally, The Doobie Brothers released their autobiography, Long Train Runnin' on July 26, 2022.